FILTRATION SYSTEMS
During refueling outages and periods of underwater work activity at nuclear power stations, it is necessary to filter the water to maintain water clarity. Also, it is good practice to vacuum up loose crud pockets or sludge which has accumulated around underwater equipment or in the general bottom areas of pools. To meet this need, Tri Nuclear Corp. initiated a program in to design, manufacture and market a new family of Underwater Filter/Vacuum units which are currently in use in virtually every plant in the U.S. and many overseas plants.
Tri Nuclear Underwater Filter / Vacuum units are ideally suited to perform the following:
– Water clarity for Reactor Vessel internal in service inspection projects. GE, Westinghouse / PCI, and Areva have all used Tri Nuclear UFV-260's for ISI inspection work
– Underwater loose parts retrieval
– Reactor Cavity and Fuel pool surface skimming
– Fuel Cask Pit cleanup
– Underwater plasma cutting / EDM / mechanical cutting capture / filtration
– All Tri Nuclear Equipment is designed to help the plant exceed its ALARA (As Low As Reasonably Achievable) radiation goals
– Reactor Cavity and Spent Fuel Pool turbidity control
– Rapidly filter and cleanup pool water
– Reactor Vessel flange cleaning
– Reactor vessel internal and component underwater cleaning
– Reactor Water Storage Tank cleanup projects
Below you will find our main line items. Please see attached PDF for specifics about a particular unit. As always, If you have interest in any of our products, do not hesitate to phone or email us at any time.
Underwater Filtration Systems
UFV-100 System | 100 GPM Vacuum Filter System
Tri Nuclear has developed a compact stand alone underwater filter vacuum which is ideal for use on special projects or in confined areas where space is at a premium.
The UFV-100 is a compact unit on a 14" x 24" base. Ideal for use in confined areas. The system includes a housing, pump/motor assembly, hose, flow meter and special tooling. Design flow rate is 100 GPM.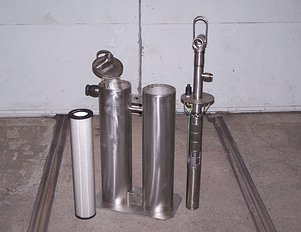 UFV-260 System | 260 GPM Vacuum Filter System
Tri Nuclear has developed a versatile stand alone underwater filter vacuum which is ideal for use in the Spent Fuel Pool or Reactor Cavity and is the most widely used underwater filter vacuum on the market.
The UFV-260 is similar to UFV-100 with a 24" x 24" base and design flow rate of 260 GPM.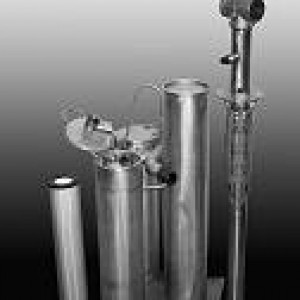 UFV-600 System | 600 GPM Vacuum Filter System
Tri Nuclear has developed a large stand alone underwater filter vacuum which can process large amounts of water rapidly for water clarity and still retains the ability for minor vacuuming campaigns.
The UFV-600 combines the features of the UFV-260 and the UF-600 in one unit by modifying a standard UF-600 by adding suction piping and filter tube covers.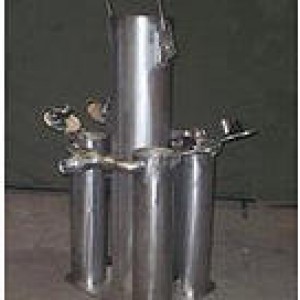 UF-600 System | 600 GPM Filtration System
Tri Nuclear has developed a large stand alone underwater filter which is ideal for processing large amounts of water rapidly for water clarity.
The UF-600 is manufactured with a 24" x 30" base and design flow rate of 600 GPM. This unit is designed for filtering operations and not vacuuming.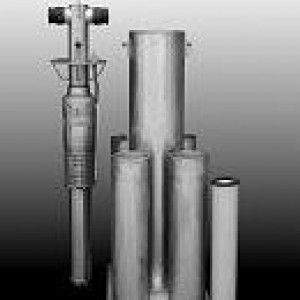 UF-1000 System | 1000 GPM Filtration System
-The largest stand-alone underwater filter made by Tri Nuclear Corp.
-Designed for processing significant amounts of water quickly
-Rapid cavity water turnover minimizes the effect of poor water clarity on critical path time
-Eight filter system allows longer run times with lower dose exposure
-Negative pressure system gravity seats the pump
-All stainless construction
Specifications:
Base: 34" x 34"
Height: 85"
Weight (empty with pump): 650 lbs
Weight (full with pump): 1,725 lbs
Pump Weight: 235 lbs
Number of Filters: 8 Cartridges
Hoses: 2 Discharge
System Flow Rate: 1,000 GPM
Material: Stainless Steel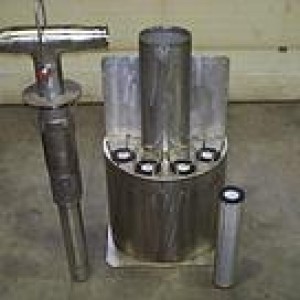 Out Of Pool Filtration Systems
Radwaste filter, on 24 x 24 base plate with option of 1-1/2″ or 2″ inlet/outlet connections
RWFS-1 | Radwaste Filter and Shield
Radwaste filter and shield (2" thick lead), on 24" x 36" base, clamshell top opening. Comes standard with 1-1/2in Victaulic connections
FPS-65 | Filter Pump and Shield
Filter Pump & Shield on Dolly. Includes (1) Rad Waste Filter with 2" lead shield, 1-1/2" SS ball shutoff valves, 1-1/2" male camlock inlet & outlet connections, (2) 1-1/2 x 25ft suction/discharge hoses w/ SS MxF camlock couplers, and air operated diaphragm pump. All items are mounted on a stainless steel dolly
Skimmer Filtration Systems
Pool Skimmer, 36" Dia w/ 2" female camlock, for use with UFV-100/260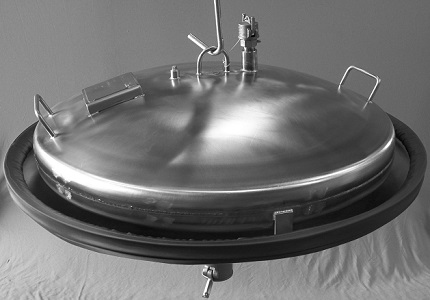 SFP-100 | Skimmer Filter and Pump Unit
Self-Powered Pool Skimmer, with integral filter and 2-1/2HP, 460V pump. Includes CB-100P-FM PHASE REVERSING control box with flow meter and twist lock plugs, PC-50 drop cable with twist lock plug, FM-SRD Digital Flow Sensor, UT-10C Mounting Panel, PH-2×10 Discharge Hose, UT-8A-1.125 Diffuser with 1-1/8" orifice, and AS-2 Assembly Stand.